Adult Fiction:
From #1 New York Times bestselling author Susan Mallery—a story of friends who become family, giving each other courage to start over…
When fate brings three strangers to a charming space for lease on the California coast, the Boardwalk Bookshop is born. Part bookstore, part gift shop, part bakery, it's a dream come true for Bree, Mikki and Ashley. But while their business is thriving, their personal lives are…not.
Bree, wounded by brilliant but cold parents and her late husband's ultimate betrayal, has sworn to protect her heart at all costs. Even from Ashley's brother, a writer and adventurer who has inspired millions. He's the first man to see past Bree's barricades to her true self, which terrifies her. Mikki has this divorce thing all figured out—somehow, she's stayed friends with her ex and her in-laws…until a new man changes how everyone looks at her, and how she sees herself. Meanwhile, Ashley discovers that the love of her life never intends to marry. Can she live without being a wife if it means she can have everything else she's ever wanted?
At sunset every Friday on the beach in front of the Boardwalk Bookshop, the three friends share a champagne toast. As their bond grows closer, they challenge one another to become the best versions of themselves in this heartachingly beautiful story of friendship, sisterhood and the transformative power of love.
Eve Duncan attempts to unearth one of history's mostintriguing lost secrets in this adventure ripped from the pages of Greek mythology, by #1 New York Times bestselling author Iris Johansen.
Archaeologist Riley Smith has been obsessed with Helen of Troy since she was a small girl, trailing her professor father all over the world in search of the tomb of the world's most beautiful woman. Professor Smith put his life on the line to prove that, instead of a myth, Helen had been a living, breathing queen.
Riley seeks the help of forensic sculptor Eve Duncan, who has the unusual skills necessary to recreate the face that launched a thousand ships—revealing Helen's true appearance for the first time in history. But convincing Eve to take on the challenge will be difficult because her efforts could come at great personal risk to her and her family…
Tomb raiders have murdered Riley's father, and now she is more determined than ever to reach the burial site first, avenge his death, and enlist Eve's aid. Also on hand to help is dashing fixer and treasure hunter Michael Cade, but could he have his own secret agenda when it comes to finding Helen?
Now both Riley and Eve are in danger and in a race across one of the most remote parts of the world. All they have is their trust in each other and their belief in a dream as they hunt for Helen.
Smarting from her recently cancelled wedding and about to turn forty, Laurie Sassalyn returns to her Maine hometown of Calcasset to handle the estate of her great-aunt Dot, a spirited adventurer who lived to be ninety. Along with boxes of Polaroids and pottery, a mysterious wooden duck shows up at the bottom of a cedar chest. Laurie's curiosity is piqued, especially after she finds a love letter to the never-married Dot that ends with the line, "And anyway, if you're ever desperate, there are always ducks, darling."
Laurie is told that the duck has no financial value. But after it disappears under suspicious circumstances, she feels compelled to figure out why anyone would steal a wooden duck–and why Dot kept it hidden away in the first place. Suddenly Laurie finds herself swept up in a righteous caper that has her negotiating with antiques dealers and con artists, going on after-hours dates at the local library, and reconnecting with her oldest friend and first love. Desperate to uncover her great-aunt's secrets, Laurie must reckon with her past, her future, and ultimately embrace her own vision of flying solo.
A woman returns to her small Maine hometown, uncovering family secrets that take her on a journey of self-discovery and new love, in this warm and charming novel from the New York Times bestselling author of Evvie Drake Starts Over.
A discarded painting in a junk pile, a skeleton in an attic, and the greatest racehorse in American history: from these strands, a Pulitzer Prize winner braids a sweeping story of spirit, obsession, and injustice across American history
Kentucky, 1850. An enslaved groom named Jarret and a bay foal forge a bond of understanding that will carry the horse to record-setting victories across the South. When the nation erupts in civil war, an itinerant young artist who has made his name on paintings of the racehorse takes up arms for the Union. On a perilous night, he reunites with the stallion and his groom, very far from the glamor of any racetrack.
New York City, 1954. Martha Jackson, a gallery owner celebrated for taking risks on edgy contemporary painters, becomes obsessed with a nineteenth-century equestrian oil painting of mysterious provenance.
Washington, DC, 2019. Jess, a Smithsonian scientist from Australia, and Theo, a Nigerian-American art historian, find themselves unexpectedly connected through their shared interest in the horse–one studying the stallion's bones for clues to his power and endurance, the other uncovering the lost history of the unsung Black horsemen who were critical to his racing success.
Based on the remarkable true story of the record-breaking thoroughbred Lexington, Horse is a novel of art and science, love and obsession, and our unfinished reckoning with racism.
After a tragic fire in 1922 that killed 19-year-old chambermaid, Grace Hadley, The Hotel Nantucket descended from a gilded age gem to a mediocre budget-friendly lodge to inevitably an abandoned eyesore — until it's purchased and renovated top to bottom by London billionaire, Xavier Darling.  Xavier hires Nantucket sweetheart Lizbet Keaton as his general manager, and Lizbet, in turn, pulls together a charismatic, if inexperienced, staff who share the vision of turning the fate of the hotel around. They face challenges in getting along with one another (and with the guests), in overcoming the hotel's bad reputation, and in surviving the (mostly) harmless shenanigans of Grace Hadley herself — who won't stop haunting the hotel until her murder is acknowledged.
Filled with the emotional tension and multiple points of view that characterize Elin's books (The Blue Bistro, Golden Girl) as well as an added touch of historical reality, Hotel Nantucket offers something for everyone in this summer drama for the ages.
The Kingsley family is practically American royalty, beloved for their military heroics, political service, and unmatched elegance. When Joseph S. Kingsley III is born in 1960, he inherits the weight of that legacy. Growing up with all the Kingsley looks and charisma, Joe should have no problem taking up the mantle after his father's untimely death. But he is also a little bit reckless, and can't seem to figure out how to channel the expectations of an entire country.
No one ever expected anything of Cate, on the other hand. She, too, grew up in a single-parent household—just her and her mom scraping by in their small apartment. As a teenager, though, Cate is discovered for her looks. Modeling may be her only ticket out of the cycle of disappointment that her mother has always inhabited. Before too long, her face is everywhere, though she is always aware that she'd be a pariah in her social circles if anyone knew her true story.
When Joe and Cate's paths cross, their connection is instant. What remains to be seen is whether their relationship will survive the glare of the spotlight that follows Joe everywhere. And just as they find themselves in the make-or-break moment, the tragedy that seems to run in Joe's family right alongside all that privilege will repeat itself.
In a beautifully written novel that recaptures a gilded moment in American history, Emily Giffin tells a story of a love that may or may not have the power to transcend circumstances that seem arrayed against it… and the difficulty of finding your way to the place you belong.
From the New York Times bestselling author of Find You First and Elevator Pitch comes a gripping psychological thriller about a formerly missing woman who has suddenly returned under mysterious circumstances.
One weekend, while Andrew Mason was on a fishing trip, his wife, Brie, vanished without a trace. Most everyone assumed Andy had got away with murder–it's always the husband, isn't it?–but the police could never build a strong case against him. For a while, Andy hit rock bottom–he drank too much to numb the pain, was abandoned by all his friends save one, nearly lost his business, and became a pariah in the place he once called home.
Now, six years later, Andy has finally put his life back together. He sold the house he once shared with Brie and moved away. Truth to tell, he wasn't sad to hear that the old place was razed and a new house built on the site. He's settled down with a new partner, Jayne, and life is good.
But Andy's peaceful world is about to shatter. One day, a woman shows up at his old address, screaming, "Where's my house? What's happened to my house?" And then, just as suddenly as she appeared, the woman–who bears a striking resemblance to Brie–is gone. The police are notified and old questions–and dark suspicions–resurface.
Could Brie really be alive after all these years? If so, where has she been? It soon becomes clear that Andy's future, and the lives of those closest to him, depends on discovering what the hell is going on. The trick will be whether he can stay alive long enough to unearth the answers.
The latest twisty psychological thriller from internationally-bestselling author Lucy Clarke, One of the Girls is the delicious story of a bachelorette trip on a stunning Greek island… that ends in murder.
It was supposed to be the perfect weekend away. Six very different women travel to a sun-soaked Greek island for a bachelorette trip, to celebrate Lexi's upcoming wedding. From the glorious ocean views to the quaint tavernas and whitewashed streets, the vacation seems too good to be true. But dangerous undercurrents run beneath the sunset swims and midnight cocktails – because each of the women is hiding a secret. Someone is determined to make sure that Lexi's marriage never happens – and that one of them doesn't leave the island alive.
Gripping, twisty, and full of sun-soaked suspense, this timely thriller examines the joys of female friendship…as well as the deadly consequences when a relationship goes wrong.
Kids: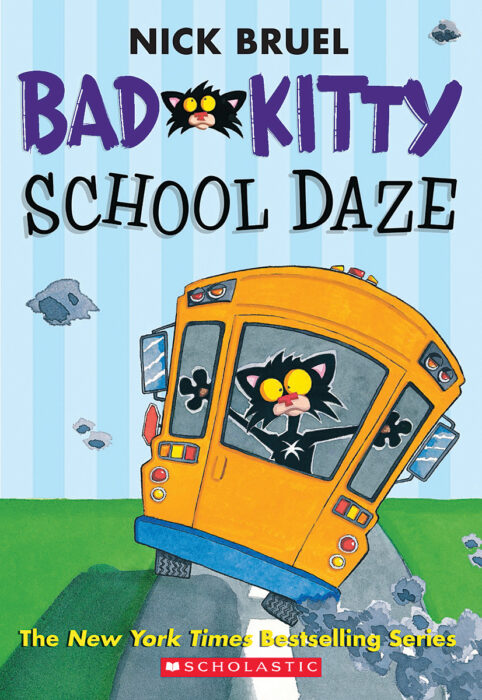 Bad Kitty faces her toughest challenge yet: Kitty and Puppy are out of control! They're screaming, fighting, hissing, and drooling all over the house, and all of the commotion is upsetting Baby. Time for school – obedience school, that is. Can Kitty learn to follow the rules and make friends with the other students or will she bring chaos to the classroom? Find out in Bad Kitty's hilarious, new (mis)adventure!
With the same warmth and fun that readers loved in All the Answers, Kate Messner weaves fantasy into the ordinary, giving every reader the opportunity to experience a little magic.
When Charlie Brennan goes ice fishing on her town's cold winter lake, she's hoping the perch she reels in will help pay for a fancy Irish dancing solo dress. But when Charlie's first catch of the day offers her a wish in exchange for its freedom, her world turns upside down.
Charlie catches the fish again and again, but each time, her wishes go terribly and hilariously wrong. Just when things are finally starting to turn around, a family crisis with her older sister forces Charlie to accept the fact that some of the toughest challenges in life can't be fixed by wishing.
From the award-winning author of SO B. IT, a story about family, friendship, and…pie!
When Alice's Aunt Polly, the Pie Queen of Ipswitch, passes away, she takes with her the secret to her world-famous pie-crust recipe. Or does she? In her will, Polly leaves the recipe to her extraordinarily fat, remarkably disagreeable cat, Lardo . . . and then leaves Lardo in the care of Alice.
Suddenly, the whole town is wondering how you leave a recipe to a cat. Everyone wants to be the next big pie-contest winner, and it's making them pie-crazy. It's up to Alice and her friend Charlie to put the pieces together and discover the not-so-secret recipe for happiness: Friendship. Family. And the pleasure of doing something for the right reason.
With Pie, acclaimed author Sarah Weeks has baked up a sweet and satisfying delight, as inviting as warm pie on a cold day. You'll enjoy every last bite.
Kitty's owners are home with a big surprise for Kitty. But what is it? Kitty, reeling in horror, thinks it's a . . . dog. The neighbor cats are convinced it's a cat. But we all know that it's really a BABY!
With Nick Bruel's trademark mix of antic humor (this time involving a Kitty game show and the Kitty Olympics—which the baby wins hands down), riotous illustrations, total mayhem, and Uncle Murray Fun Facts, this may be the funniest Kitty book yet, and the one that hits closest to home.
Bad Kitty Meets the Baby is the winner of the 2012 Children's Choice Book Awards for Third to Fourth Grade Book of the Year.