Adult Fiction:
Honeymooners at a posh resort receive an ominous warning with deadly consequences in the latest gripping, twisty psychological thriller from New York Times bestselling author Sophie Hannah.
Jane and William are enjoying their honeymoon at an exclusive couples-only resort…
…until Jane receives a chilling note warning her to "Beware of the couple at the table nearest to yours." At dinner that night, five other couples are present, and none of their tables is any nearer or farther away than any of the others. It's almost as if someone has set the scene in order to make the warning note meaningless–but why would anyone do that?
Jane has no idea.
But someone in this dining room will be dead before breakfast, and all the evidence will suggest that no one there that night could have possibly committed the crime.
From the beloved Pulitzer Prize-winning and best-selling author of A Thousand Acres: a mystery set in 1850s Gold Rush California, as two young prostitutes—best friends Eliza and Jean—follow a trail of missing girls.
Monterey, 1851. Ever since her husband was killed in a bar fight, Eliza Ripple has been working in a brothel. It seems like a better life, at least at first. The madam, Mrs. Parks, is kind, the men are (relatively) well behaved, and Eliza has attained what few women have: financial security. But when the dead bodies of young women start appearing outside of town, a darkness descends that she can't resist confronting. Side by side with her friend Jean, and inspired by her reading, especially by Edgar Allan Poe's detective Dupin, Eliza pieces together an array of clues to try to catch the killer, all the while juggling clients who begin to seem more and more suspicious.
Eliza and Jean are determined not just to survive, but to find their way in a lawless town on the fringes of the Wild West—a bewitching combination of beauty and danger—as what will become the Civil War looms on the horizon. As Mrs. Parks says, "Everyone knows that this is a dangerous business, but between you and me, being a woman is a dangerous business, and don't let anyone tell you otherwise …"
The searing and unforgettable story of one decision that irrevocably changes the course of a young man's life.
In the early 1970s, in Stovall, Texas, seventeen-year-old Earl—a loner, dreamer, lover of music and words—meets and is quickly infatuated with Tina, the new girl in town. Tina convinces Earl to drive her to see her mother in Austin, where Earl and Tina are quickly separated. Two days later, Earl is being questioned by the police about Tina's disappearance and the blood in the trunk of his car. But Earl can't remember what happened in Austin, and with little support from his working-class family, he is sentenced for a crime he did not commit.
Forty years later, Earl is released into an America so changed that he can barely navigate it. Determined to have the life that was taken from him, he settles in a small town on the Oregon coast and struggles to overcome the emotional toll of incarceration. But just as Earl finds a chance to begin again, his past returns to endanger the new life he's built.
Steeped in the music and atmosphere of the 1970s, I Am the Light of This World is a gritty, gripping, and gorgeously written story of the impulsive choices of youth, redemption, mercy, and the power of the imagination.
My Dark Vanessa meets The Queen's Gambit in this new novel of suspense about the bonds of family, the limits of talent, the risks of ambition, and the rewards of revenge.
When former piano prodigy Saskia Kreis returns home to Milwaukee after her mother's unexpected death, she expects to inherit the family estate, the Elf House. But with the discovery that her mother's will bequeathed the Elf House to a man that Saskia shares a complicated history with, she is forced to reexamine her own past–and the romantic relationship that changed the course of her life–for answers. Can she find a way to claim her heritage while keeping her secrets buried, or will the fallout from digging too deep destroy her?
Set against a post #MeToo landscape, The Ingenue delves into mother-daughter relationships, the expectations of talent, the stories we tell ourselves, and what happens when the things that once made you special are taken from you. Moving between Saskia's childhood and the present day, this dark, contemporary fairy tale pulses with desire, longing, and uncertainty, as it builds to its spectacular, shocking climax.
Florida is slipping away. As devastating weather patterns and rising sea levels gradually wreak havoc on the state's infrastructure, a powerful hurricane approaches a small town on the southeastern coast. Kirby Lowe, an electrical line worker; his pregnant wife, Frida; and their two sons, Flip and Lucas, prepare for the worst. When the boys go missing just before the hurricane hits, Kirby heads out into the high winds to search for them. Left alone, Frida goes into premature labor and gives birth to an unusual child, Wanda, whom she names after the catastrophic storm that ushers her into a society closer to collapse than ever before.
As Florida continues to unravel, Wanda grows. Moving from childhood to adulthood, adapting not only to the changing landscape, but also to the people who stayed behind in a place abandoned by civilization, Wanda loses family, gains community, and ultimately, seeks adventure, love, and purpose in a place remade by nature.
Told in four parts—power, water, light, and time—The Light Pirate mirrors the rhythms of the elements and the sometimes quick, sometimes slow dissolution of the world as we know it. It is a meditation on the changes we would rather not see, the future we would rather not greet, and a call back to the beauty and violence of an untamable wilderness.
From the New York Times bestselling author of Nothing to See Here comes an exuberant, bighearted novel about two teenage misfits who spectacularly collide one fateful summer, and the art they make that changes their lives forever.
Sixteen-year-old Frankie Budge—aspiring writer, indifferent student, offbeat loner—is determined to make it through yet another sad summer in Coalfield, Tennessee, when she meets Zeke, a talented artist who has just moved into his grandmother's unhappy house and who is as lonely and awkward as Frankie is. Romantic and creative sparks begin to fly, and when the two jointly make an unsigned poster, shot through with an enigmatic phrase, it becomes unforgettable to anyone who sees it. The edge is a shantytown filled with gold seekers. We are fugitives, and the law is skinny with hunger for us.
The posters begin appearing everywhere, and people wonder who is behind them. Satanists, kidnappers—the rumors won't stop, and soon the mystery has dangerous repercussions that spread far beyond the town. The art that brought Frankie and Zeke together now threatens to tear them apart.
Twenty years later, Frances Eleanor Budge—famous author, mom to a wonderful daughter, wife to a loving husband—gets a call that threatens to upend everything: a journalist named Mazzy Brower is writing a story about the Coalfield Panic of 1996. Might Frances know something about that? And will what she knows destroy the life she's so carefully built?
A bold coming-of-age story, written with Kevin Wilson's trademark wit and blazing prose, Now Is Not The Time to Panic is a nuanced exploration of young love, identity, and the power of art. It's also about the secrets that haunt us—and, ultimately, what the truth will set free.
Kids: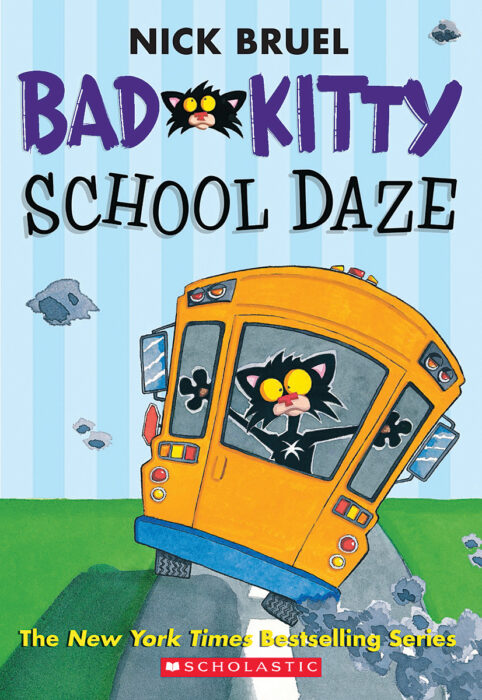 Bad Kitty faces her toughest challenge yet: Kitty and Puppy are out of control! They're screaming, fighting, hissing, and drooling all over the house, and all of the commotion is upsetting Baby. Time for school – obedience school, that is. Can Kitty learn to follow the rules and make friends with the other students or will she bring chaos to the classroom? Find out in Bad Kitty's hilarious, new (mis)adventure!
With the same warmth and fun that readers loved in All the Answers, Kate Messner weaves fantasy into the ordinary, giving every reader the opportunity to experience a little magic.
When Charlie Brennan goes ice fishing on her town's cold winter lake, she's hoping the perch she reels in will help pay for a fancy Irish dancing solo dress. But when Charlie's first catch of the day offers her a wish in exchange for its freedom, her world turns upside down.
Charlie catches the fish again and again, but each time, her wishes go terribly and hilariously wrong. Just when things are finally starting to turn around, a family crisis with her older sister forces Charlie to accept the fact that some of the toughest challenges in life can't be fixed by wishing.
From the award-winning author of SO B. IT, a story about family, friendship, and…pie!
When Alice's Aunt Polly, the Pie Queen of Ipswitch, passes away, she takes with her the secret to her world-famous pie-crust recipe. Or does she? In her will, Polly leaves the recipe to her extraordinarily fat, remarkably disagreeable cat, Lardo . . . and then leaves Lardo in the care of Alice.
Suddenly, the whole town is wondering how you leave a recipe to a cat. Everyone wants to be the next big pie-contest winner, and it's making them pie-crazy. It's up to Alice and her friend Charlie to put the pieces together and discover the not-so-secret recipe for happiness: Friendship. Family. And the pleasure of doing something for the right reason.
With Pie, acclaimed author Sarah Weeks has baked up a sweet and satisfying delight, as inviting as warm pie on a cold day. You'll enjoy every last bite.
Kitty's owners are home with a big surprise for Kitty. But what is it? Kitty, reeling in horror, thinks it's a . . . dog. The neighbor cats are convinced it's a cat. But we all know that it's really a BABY!
With Nick Bruel's trademark mix of antic humor (this time involving a Kitty game show and the Kitty Olympics—which the baby wins hands down), riotous illustrations, total mayhem, and Uncle Murray Fun Facts, this may be the funniest Kitty book yet, and the one that hits closest to home.
Bad Kitty Meets the Baby is the winner of the 2012 Children's Choice Book Awards for Third to Fourth Grade Book of the Year.